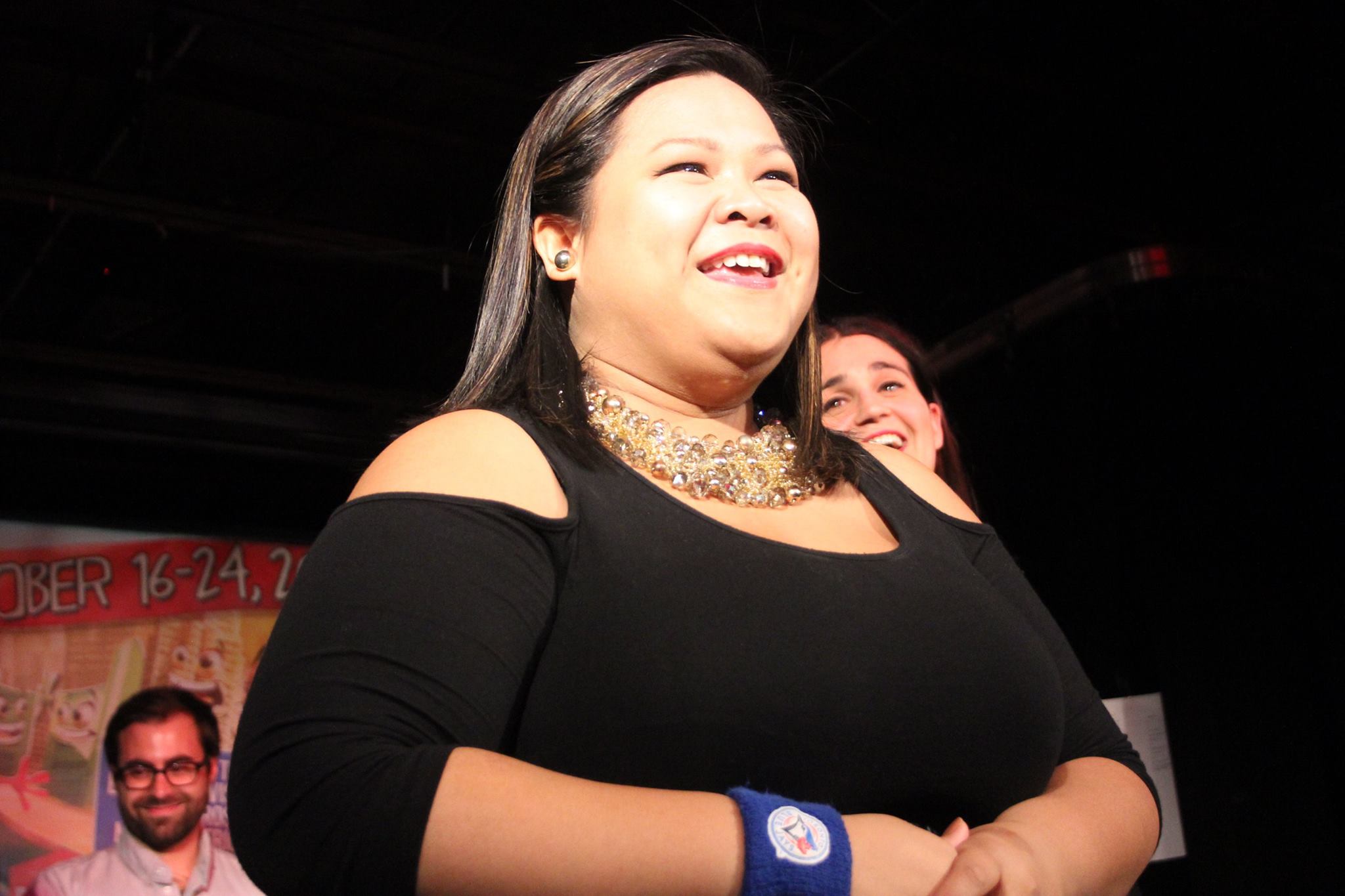 I love this photo.
When I saw it for the first time, however, I almost barfed because I hated it so much and how awful I thought I looked. The barfing can also be attributed to how hungover I was/am when my eyes first feasted upon this candid photograph taken from an improv show at the Big City Improv Festival (YAY BCIF!!). But it also had a little to do with my knee-jerk reaction of sheer terror and self-consciousness.
It's no big secret that I love taking selfies (holla, #glampornelselfieaday) and pictures of me in general and have no problems with looking at myself. However, I (momentarily) took major exception to that one. The upwards angle aka THE DEVIL'S ANGLE FROM HELL is highlighting my jowls and also makes me look kind of like a smiling Orca whale. It's not my angle. IT'S NOT ANYBODY'S ANGLE AND THIS IS PUBLIC KNOWLEDGE SO WHY WOULD YOU EVER FUCKING TAKE A PICTURE OF SOMEONE FROM BELOW THEM AND EXPECT IT TO LOOK GOOD. WE'VE ALL TAKEN ENOUGH SELFIES TO KNOW YOU MUST ALWAYS TAKE IT FROM A HIGHER ANGLE AND NEVER EVER EVER FROM BELOW LEST YOU LOOK LIKE A TERRIBLE MONSTER THAT SCARES CHILDREN IN THEIR SLEEP.
But then I took a step back (figuratively only because I was in bed and there was nothing on this God forsaken Earth that was going to make me get up) and looked at the picture for what it was.
It's a photo of me on stage doing something that makes me so happy, something that I'm good at, something that (usually) gives other people some sort of amusement. It was taken during Filthy, one of my absolute favourite shows to be a part of. I'm wearing my favourite dress, a spectacular necklace, and my Blue Jays wrist band. You can see my little dimples, which is one of my absolute favourite features. Over my shoulder, my friend Ashley is looking at me with such a lovely look on her face, one that was caught in the moment and very real, and she just looks so BEAUTIFUL it hurts my damn heart. Over my other shoulder is my other friend Matt, also smiling at whatever just happened. It's as real as a picture can get and I'm worried about how I've got a quintuple chin and look fat.
Well, I am fat and sometimes I'm gonna have a double chin. But there's far more to look at than either of those things and there's so much more beauty and joy to be found. In that photo and in life.