We are officially less than 12 hours away from the Blue Jays 2015 season opener, a day I've been looking forward to since September 29, 2014. If you're new to baseball or the type to jump on bandwagons (no judgement) and you've decided this was gonna be the year you "get into baseball," welcome! Won't you let me hold your sweet hand and guide you through this? I promise this is a safe space with little, if any, know-it-all-pretension and stats, mostly because there's still so much I don't know and I only pay attention to sabermatrics and any number that has a decimal in it when either Brad Pitt or Chris Pratt are on screen. All you'll find here is pure, unadulterated enthusiasm and so much butt talk. Like, SO much butt talk. If you're into that, I'm your gal.
If you're not, YOU SUUUUUUUUUUCK, BUD. GET OUT.
There's a million things to talk about this year, on account of some major changes that happened in the offseason and during spring training, some good, some AMAZING, some straight-up heartbreaking. But I think the start of a new season is where optimism should shine, so before the butts in blue face the New York Yankees tomorrow, here are some things I'm excited for.
Josh Donaldson
It was a very dark day in my butt-loving heart that November when the Brett Lawrie/Josh Donaldson trade happened. Lawrie was a polarizing player because of his streaky performance, his inability to stay healthy and the fact that he acts like he's hooked up to an IV filled with Red Bull (which he basically was). I loved him despite all of his shortcomings because that boy's pregame stretches were ON FLEEK. You haven't had a fulfilling life if you haven't seen Brett Lawrie roll and stretch on the field like THAT'S what he was getting paid for. With him and my big-booty beauty Adam Lind gone, there was a huge hole in my heart.
Enter Josh Donaldson. Arguably as good, if not a better 3rd baseman than Lawrie, made even better by the fact that he can stay on the field for most of the season so he can actually contribute. Watching him in spring training was like this series of emojis: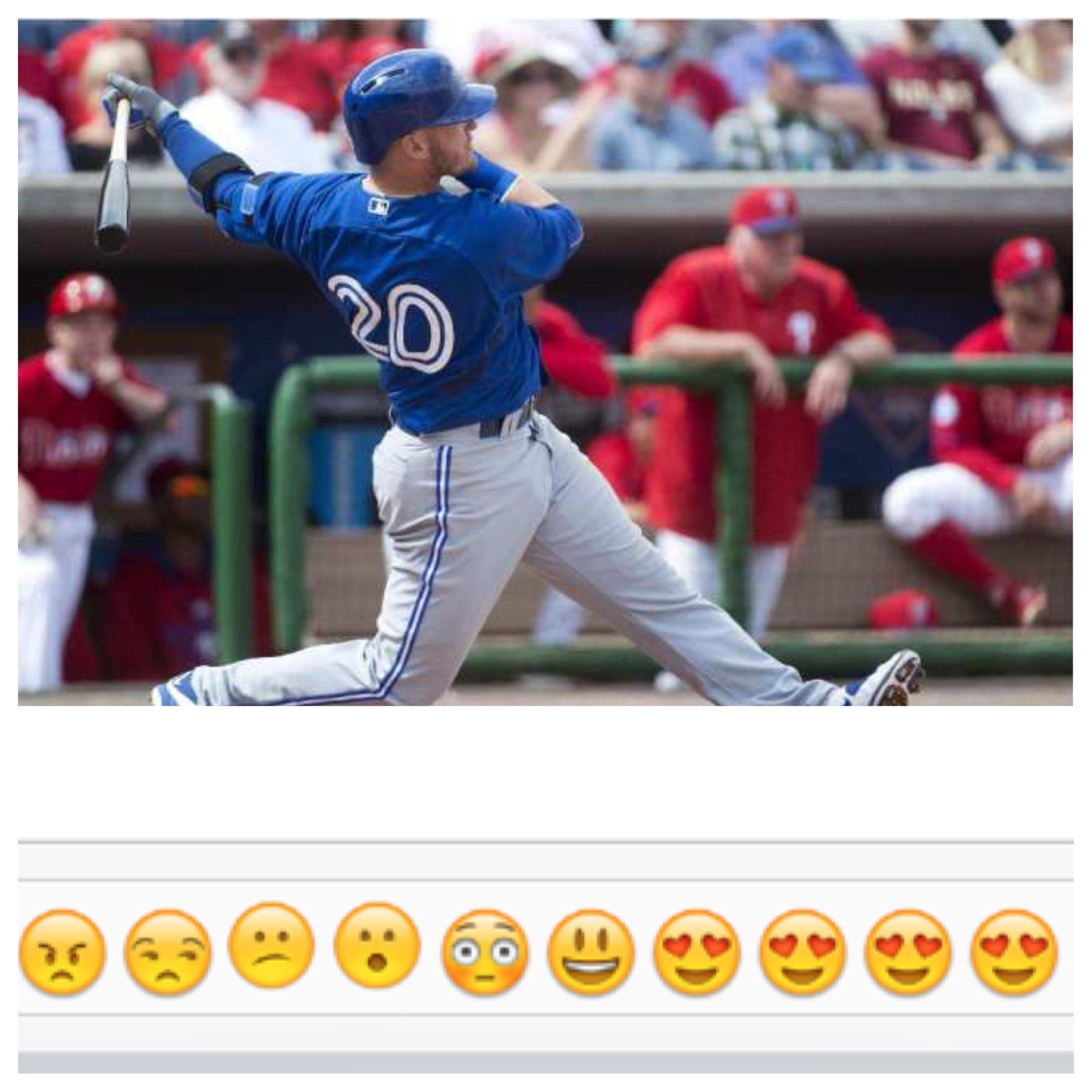 A lot of people are predicting that he's gonna flourish in the hitter-friendly Roger's Centre and as it stands, the 3, 4, 5 spots in our batting order is Bautista, Encarnacion and him, which is nuts. Oh, and he also responded to one of my butt Tweets, so he's definitely earned himself a place in my heart.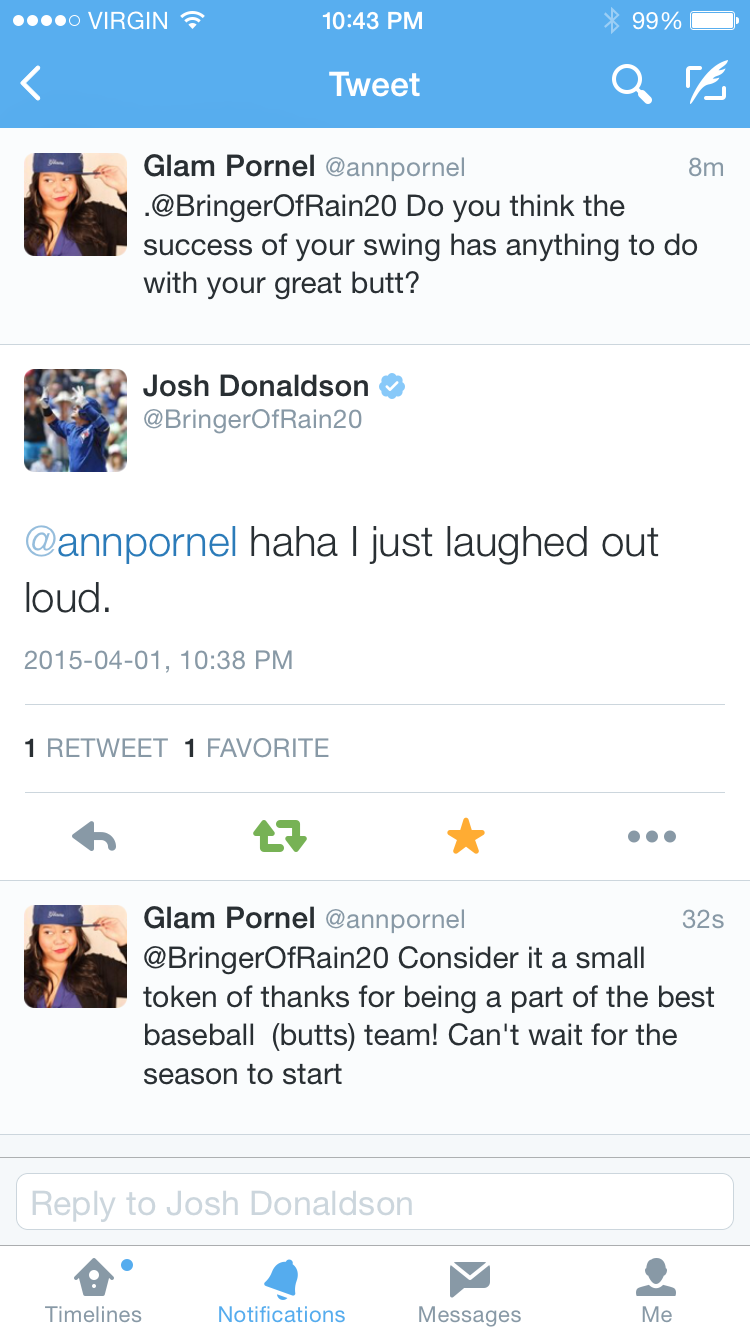 Russell Martin
The Blue Jays are a very different team than they were this time last year. No more Lind, Lawrie, Rasmus, Melky, Janssen, Morrow, McGowan, and Beef Jerky. While we still have Teddy Ruxbin aka Dioner Navarro, we have a new face behind the plate in Russell Martin. Between him and Donaldson, there's been a huge amount of buzz, and I am fully drinking the Kool-Aid. Important to know: He was born in the Toronto Municipality Formerly Known As East York and lived in Montreal, so he's a good ol' Canadian boy. Offensively he's been okay during spring training, but if nothing else, Martin's biggest contribution has been having the ability to catch all of our pitchers, including resident Hot Dad knuckleballer R.A. Dickey, thus making Josh Thole obsolete (for now). Though he possesses a great baddonk (important for me and me alone), T-hole left a huge T-hole in the batting order. Also Martin seems like a really cool guy and OOHH DAT BEARD.
Jose Bautista
Every Blue Jays fan knows what a cliche it is to have Jose Bautista as your favourite player, but you'd be completely insane if you thought you could reasonably argue why he shouldn't be anyone's favourite. He's the face of the franchise for a goddamn reason, reasons 1-35 would be the home runs from 2014 alone. Also, all that work with Booster Juice is doing his body good, because he seems to be getting in even better shape. And in case you were wondering what kind of shape, it's this: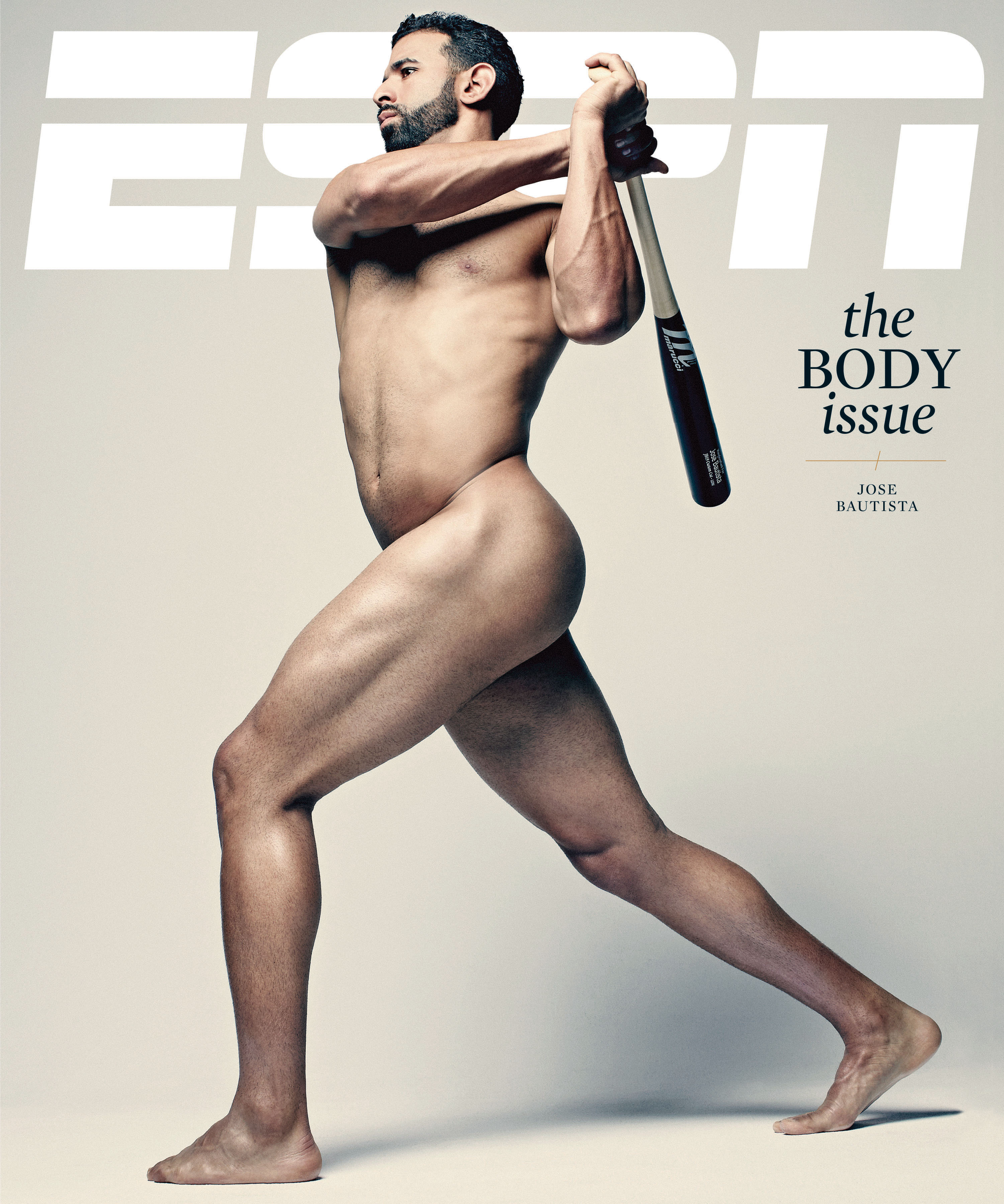 I'm also very intrigued with what Joey Butts' hairline is gonna look like. While hair loss is no joking matter and maybe a shitty thing of me to point out, I think it makes him even more likeable because it makes him more human, and less like some super being who traded his soul to the devil for incredible talent, work ethic, and general swagger. AND DAT ASS.
Mark Buehrle
I'm excited for Papa Buehrle to reach 200 innings for his 15th consecutive season, which less than 5 people have done in all of the history of baseball. And he'll do it, there's no doubt in my mind, because he's Mark Buehrle and he might not be the flashiest, sexiest, hardest-throwing guy, on the Jays alone (Daniel Norris maybe wins all of the above), but he's a goddamn stud in his own right and I will fight anyone to the death if they disagree.
Jose Reyes
I'm excited to see if La Melaza (rough translation: MOLASSES) can make it out of the first month without getting hurt. Fingers crossed.
The Young Guns
The Jays are going into the season opener with a staggering amount of rookies: six. There's a lot of ass-kissing and romanticizing these young bunnies, but there's also a ton of (realistic) skepticism. But guess which I'm gonna do right now? I'm excited for:
-Daniel Norris and his beard (and his development as a starter in the majors)
-Devon Travis and his incredibly adorable smile (and his surprising defensive abilities)
-Dalton Pompey. Period.
-Drew Hutchison to finally smile (he already cracked a joke in a live interview so fingers crossed) (also he's technically not a rookie, but I think he's the youngest opening day starter in franchise history. Also I really wanna see this guy smile ONCE)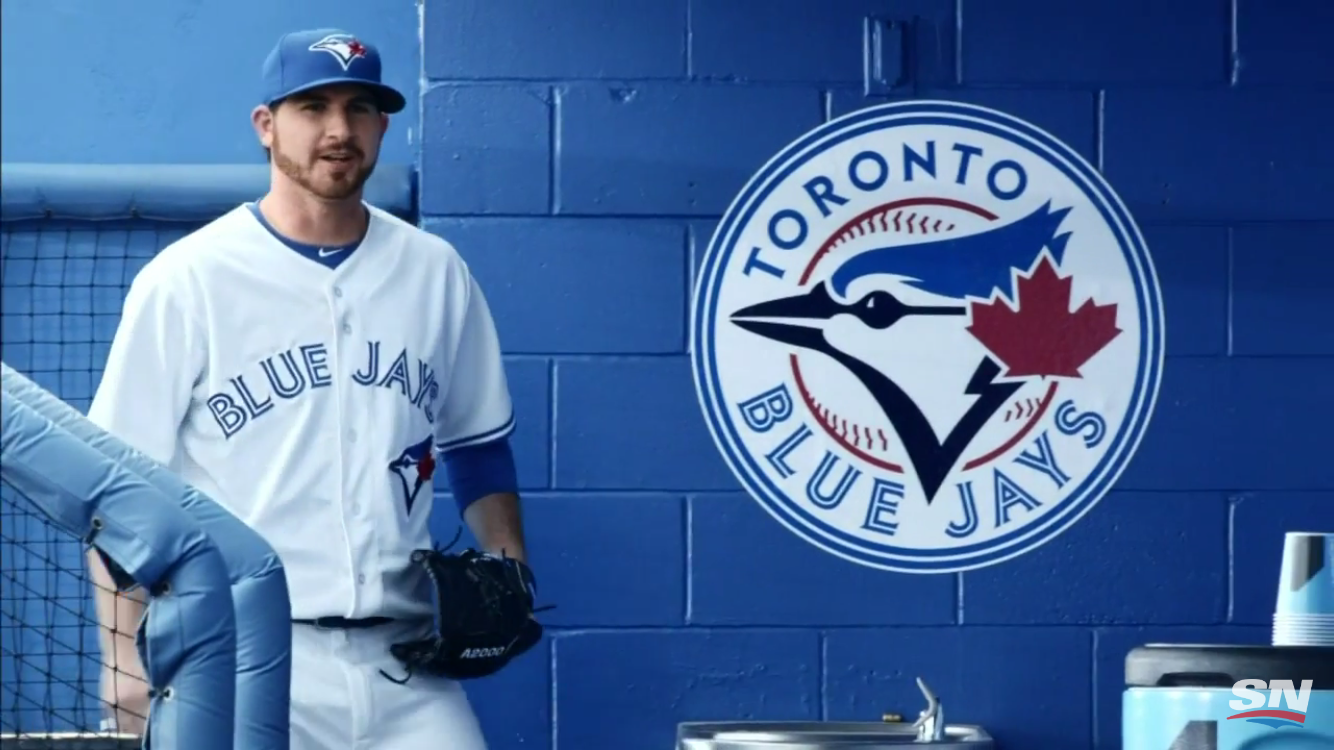 Make no mistake, there is so much more to be excited about. Actually there's EVERYTHING to be excited for, but we'll take that one step at a time. My heart is already overwhelmed and my eyes are FEENIN FOR SOME THICKY THICKY BUM BUMS.
Play ball!