The following post will contain the following: ego stroking, lady empowerment, crew love, and more ego stroking.
This past weekend, The Ladies of the Sketchersons (a small faction from the great Sketchersons) won Toronto Sketch Comedy Festival's Sketch Com-Ageddon. We beat out over 40 Toronto's best troupes  (including some of my personal favourites) and secured a spot in the 2015 Toronto Sketchfest and won a cash prize. But most of all, we won a sense of pride in ourselves and our troupe.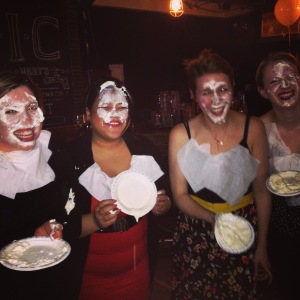 The Sketchersons have been a troupe for 10 years, with different generations and casts. For the first time in the history of being in the group, I feel like I (and the other ladies) added value to the name, instead of riding on the coat-tails of a troupe with a long history. We won Judge's Pick twice to get to the finals, and then we won Audience's Choice for the grand prize, and did so without bringing that many people. Doing a weekly show means I no longer have the luxury of stacking audiences in my favour, because all of my friends have already seen a million of my shows. So winning over an audience that wasn't there specifically to support us means so much more. We didn't win because we were popular, we won because we were great. That being said, anyone who can bring a full audience out to comedy shows deserves all the prizes, so I mean no disrespect to anyone this applies to. All shows had some incredible troupes and perhaps more impressively solo sketch, and while I probably have too big a head about it than I actually deserve (YEAH RIGHT), I was actually really shocked that we got as far as we did.
And I won with fucking QUALITY comedians/writers/performers. We all got our chance to be highlighted and never at the expense of someone else. With each of our sets, we made sure that we had the best sketches we could do given the restraints (time and a much smaller cast than we've written for) and that everyone got to do something great. Oh, yeah, and we were also all ladies. Not that that fact should make it more impressive, because it shouldn't. What makes us impressive is that we're fucking talented as hell.
The Sketchersons have been around for a long time for a reason. We're the hardest working sketch troupe in this city, if not the whole damn country, and it's fucking great to get acknowledgement of that work. With the exception of perhaps 6 Sundays in the entire year, we're toiling away on a new show every. single. week. And for most, if not all of us, this isn't even our only show. We're doing this on top of the countless stand-up sets, improv shows, writing gigs, real jobs. We hustle and I want everyone to know that because it gets hidden by all our awesome wigs.
I love my ladies, I love my Sketchersons, and you should too.