The Blue Jays home opener is a day away and I couldn't be any more excited. I plan on going and flashing the Jay's bench my raw-dog v'gine all the way from the 500s. SHH PLZ DON'T TELL SECURITY OKAY? If you also managed to get your glamourous hands on tickets to the game or any game this season and you haven't been to one in a while, or ever, here are some handy Dos and Don'ts of going to see a game.
DO be excited! 
You as a spectator have one job and it's very easy: cheer for your team! While the crowd's energy, or lack thereof, might not necessarily make the team play badly, why are you going to a game if you're just gonna sit there bored, silent and umoving? Just stay home and save yourself the asthma-inducing trek to the nosebleed section. Also do you even know how LUCKY you are to be in the presence of my future husband(s) Jose Bautista, Daniel Norris, Josh Donaldson, Mark Buehrle, Drew Hutchison, Jose Reyes, Kevin Pillar, Dalton Pompey, R.A. Dickey, and Devon Travis? Next to our wedding, there's no better time to see these boys than when they're in their blue and whites in front of a roaring home crowd.
DON'T get up in the middle of an outing.
Do not get up or go to your seats or decide to stretch your legs when the ball is in play. Let me repeat this. DO. NOT. GET. UP. AND. BLOCK. SOMEONE'S. VIEW. DON'T GET UP IN THE MIDDLE OF AN OUTING. Don't do it. Have I made myself clear? Because if I'm sitting behind you and you just couldn't wait 2 minutes to get a footlong hot dog and you made me miss ANYTHING, be it an incredible play by my newest love Josh Donaldson or a casual crotch grab by my newest love Josh Donaldson, I WILL SET YOUR ENTIRE FAMILY ON FIRE AND THEN SPIT ON YOU AS YOU ALL BURN AND DIE.
DO eat yummy foods.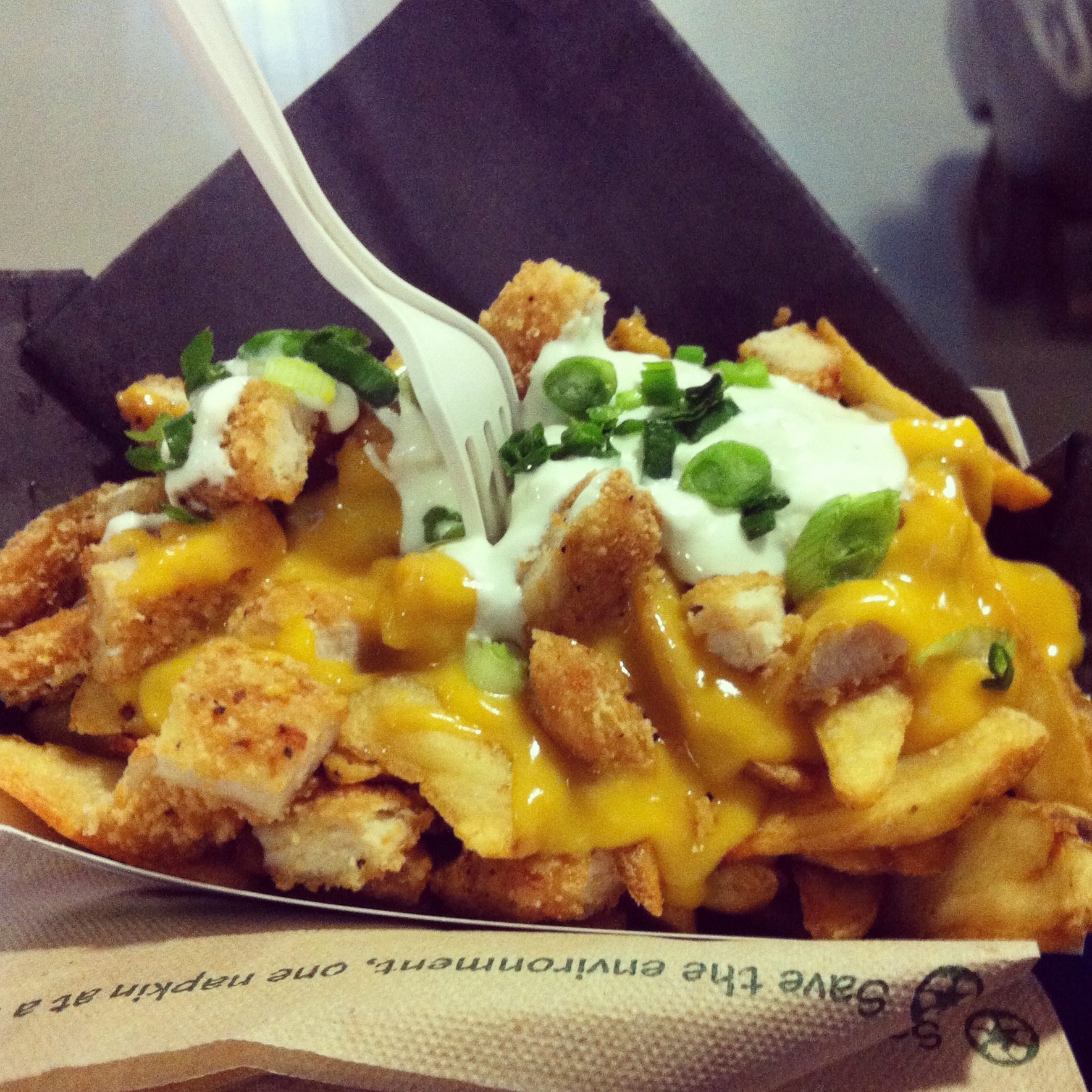 Everyone, I'd like to introduce you to one of the loves of my life: the Wedge & Wing Poutine from Quaker Steak & Lube in Section 134. This monstrosity is potato wedges and breaded chicken bites smothered in blue cheese dressing and nacho cheese. And some chives, because, you know, vegetables. DON'T look at the nutritional information for this because your sobbing will likely trigger the asthma you developed after climbing your way to the 500s. Also, hot tip: You're allowed to bring food in with you! I once brought in a burrito bowl from Chipotle and it was the best decision of my entire life until I got black bean and guac farts. The Skydome employees will check your bag (SEE BELOW) and probably sniff your opened bottles of water to make sure it's water, but if you're on a budget, pack a lunch and save dat skrilla. Click HERE to see exactly what the Dome has to offer this season!
DON'T bring a big bag.
Seating can be pretty cramped, so maybe think twice about bringing your huge yoga bag. Also someone might trip over your big-ass bag and fall to their death if you're sitting in the steep seats of the 500s. That'll be something you can meditate on while doing downward dog for the rest of your life. Do you really want that baggage? THEN DON'T BRING IT WITH YOU!
DO smile and make friends with the babies in your vicinity.
Because they're babies, duh, they need constant attention and stimulation that their baseball-loving parents might not be giving that exact second. So make friends with a baby and make a silly face. DON'T, however, touch them. You're not allowed.
DON'T take chirping too far.
The very official UrbanDictionary.com defines chirping as: "The process of talking large amounts of shit towards stupid individuals." Chirping at a sporting event is expected because people feel passionate about their own teams. It goes hand-in-hand with cheering loud and proud, so I support it… as long as the chirping is in light-hearted fun and directed towards the team, not personal attacks on fans of the team. See the diff? If I wanna boo that shitty cheater Alex Rodriguez of the New York Yankees, it is my right as a fan. However, it is NOT your right, Shitty Yankees Fan In Front Of Me, to take that personally and then lash out on me and call me a "fat whale" because your team was losing. People can get heated at games, and they're allowed to, but if you think that gives you an excuse to be mean to people for NO REASON OTHER THAN THEY'RE NOT CHEERING FOR YOUR TEAM OF DICK WIPES, you can join those fart eaters who block people's view by getting up in the middle of outs in the fiery bowels of hell as far as Ann Pornel is concerned.
DO participate in the Seventh Inning Stretch.
You'll welcome the movement and it's a baseball tradition! It's also a great time to let out those farts you've built up from eating that Wedge & Wing poutine from earlier. While we're on the topic of between inning entertainment, sing that national anthem, man. The words are right there.
DON'T start the wave when your team is at bat.
Or… ever? Listen. I'm not one of those people who completely poo-poos the wave. Of course it's juvenile and something only stupid kids like to do, but guess what, man? There are a lot of stupid little kids around you (remember? You made friends with at least one of them already), don't deny them the fun of the wave. Remember when you were that age and you thought it was the most exciting thing and probably helped solidify your love of baseball? Or do deny them, and be a grumpy fart, that's on you. That all being said, there's a time and a place for everything. Be selective when you do it, because if you're standing up and waving your hands in the air like some lunatic and you cause someone (me) to miss a Jose Bautista homer (or any of his million stretches), I WILL SET YOUR ENTIRE FAMILY ON FIRE AND THEN SPIT ON YOU AS YOU ALL BURN AND DIE. Wait until the inning is over.
DO dance to the players' walk-up music (but seated).
(Most of) Our Jays have excellent taste in music and have picked great songs to accompany them as they walk to the plate. We've got a hilarious mix of hip-hop, reggaeton and country music to groove to. That's what happens when your team is equal parts spicy Latino men and good 'ol southern boys. So duhty wine like Bautista is watching, but please do it seated, because what the eff did I say about standing up and blocking people's views?
DON'T be afraid to make friends around you, especially if they're cheering for the same team as you.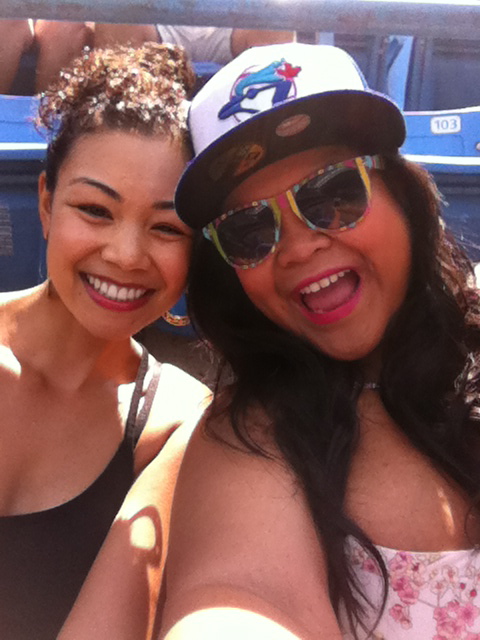 You already have one thing in common to chat about, why not make a friend or two? Unless they're Yankee's fans. You know how I feel about that.
DO respect your fellow spectators.
Everyone paid money to be there and everyone's entitled to have a great time, but never at the expense of other people. Be cool, man! It's a baseball game. Relax. Have fun!
DON'T show up at 7:00 pm and expect to see the first pitch.
The MLB has implemented more security at the gate which all baseball teams have to comply with and since they only did this during this past offseason, you can bet there's gonna be hiccups and long lines, especially on a high-traffic game like the home opener. Give yourself plenty of time to get to the dome and to also get to your seats. According to the Blue Jays website:
All guests must go through our new MLB security measures. Here are some tips to help you get through like a pro and quickly.

Give yourself plenty of time to go through security especially during peak periods (20 minutes. prior to first pitch, promotional days and midweek afternoon games.) and have your tickets ready to be presented to our staff positioned at the entrance to our screening area.
Gate 7 has been designated as our Accessible Support Entrance for guests that may require assistance entering the stadium or getting to their seats. Guest with specific needs should contact the Guest Experience Team at 416-341-1707.
Cell phones, keys or any metal objects must be removed from your person and placed in our bowls before passing through our detectors
If you have any electronics such as tablets, cameras (both stills and video) take them out of any bags and present them to the security officer for manual inspections
Avoid wearing clothes with metal snaps and buttons, belts with large metal buckles, steel-toed shoes or shoes with metal arches or shanks.
And take it easy on the ticket-takers, hey? They're having to deal with 30,000+ people, and half of which will be terrible drunk ding-dongs. We're all in this together, rooting for the same team, so let's just behave and MAKE OUT.
A version of this post was originally done for She Does the City in 2014 and can be found by clicking here. Visit that blog because it's kick-ass as hell.