There aren't enough moments in life when every single part of me is so happy and so energized, that I've decided that I'd like to take this opportunity at 1:50 am on a Friday night to hash it all out.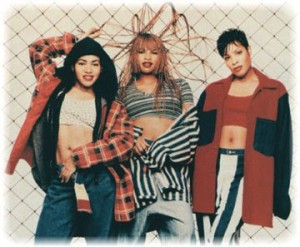 Everything in my life has lead me to this moment.
Salt 'N' Pepa. Salt and motherfucking Pepa happened.
It was at the Toronto Festival of Beer and it was with literally the most fun group of people and in one of the most female-positive concert environments I've ever been in.
I could for real talk about this concert for hours, but I won't. Instead I want to put it out into the ether aka the Internet how I feel: I have never walked away from a concert feeling so fucking happy, and empowered, and celebrated?
I just feel happy to be a woman right now, man. That's all there is to it. I'm so happy that I get to be sassy, I get to be fierce, I get to be pretty, I get to be grimy, I get to be fun, I get to be silly, I get to be hard, I GET TO BE WHATEVER THE HELL I WANT TO BE. If I wanna wear matching American flag leggings with two of my buddies and party like it's the actual best time anyone's had in their life, I'M GONNA DO IT AND NO ONE IS GONNA MAKE ME FEEL BAD OR WEIRD OR ANY SHIT LIKE THAT BECAUSE I'VE DECIDED THAT I'M GONNA FEEL GREAT ABOUT IT AND THAT'S WHAT COUNTS.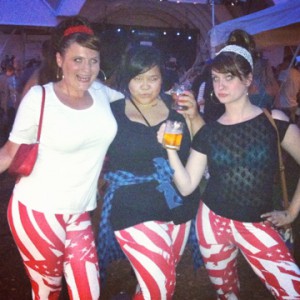 I feel like who I am is perfectly fucking fine. Example: whether you're more of a conservative Salt whose happily married (to FINE FINE LOOKING MAN) with kids, or you're a single and saucy minx of a lady like Pep, you a hot piece of lady doing her thing. JUST DO YOUR THING. Ain't nobody gonna stop you but you! FUCKING TWERK IT.
Most importantly, Salt and Pepa reminded me of how important friendship is and how even though you're gonna go through shitty patches with your friends, in the end,  you'll find your way through it if it's a real fucking friendship. JUST LIKE SALT AND PEPA DID AND THAT'S WHY THEY'RE BACK TOURING TOGETHER BRINGING GREAT JOY TO PEOPLE EVERYWHERE.
Will I regret this tomorrow morning in a far more sober light? ANSWER: FUCK NO. EVERYTHING IS THE BEST, NOTHING IS THE WORST.
And now off I go to make some pasta and cover it in butter and Parmesan cheese.