I'm going through a lot right now. Like real intense emotions that I can't even describe.
I just got back from the Nicki Minaj/Britney Spears Femme Fatale tour and I am so inspired, refreshed, TURNED ON, impressed and a million other things that are all happy, good, positive. The concert overall completely exceeded my expectations, which were really high. First of all, DJ FUCKING PAULY D was the opening act and I didn't even know until I saw his DJ booth set up on stage. HOW DID I NOT KNOW THIS? Maybe it was the gods smiling down on me with a super cool surprise. Basically got to see my first Jersey Shore denizen in real life and I saw him looking super sexy and even got video of him fist pumping. So basically that's the first thing to add to my spank bank.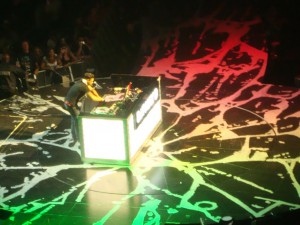 I will fist pump my crotch tonight.
I might as well talk quickly about Brit Brit since this was technically her tour. I'll be honest, I wasn't really going in with much expectations for Britney. I love her – she's given me one of my all-time favourite jams in "Toxic." But I saw her Circus tour (aka the first tour after her going crazy and then "getting better") and aside from the great production and theatrical value of it, Britney herself was really disappointing. She looked half-dead and barely danced at all. It was like watching a marionette with broken strings. But like a skankily dressed and heavily medicated marionette. However, she totally blew it out of the water with this show. I wouldn't go as far as saying Britney's back, but she's much much closer to being that dynamite performer she was pre-head shaving/K. Fed/Sam Lufti debacle. She dance waaaaay more than I thought she would, her movements were crisp (I was hoping she'd at least be lucid and she totally was more than that), and she looked so sexy. Her weave was IMPECCABLE! Britney gave a great show, and aside from one unfortch costume (saggy bra? NO THANKS), she was dazzling. So much hairography (hair + choreography)!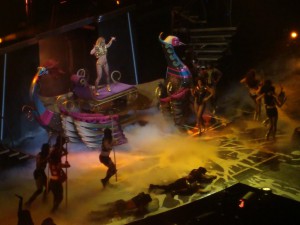 I don't really know what a dragon boat had to do with any of her songs, but damned if I didn't fall over with the vapours over how Brit looked in that golden bikini.
And now on to Nicki. Let me just preface this by saying that I love Nicki Minaj in a way that I've never felt for a female performer. I loved Backstreet Boys in a really big and hormone-y way in the mid/late 90s through out until Kevin Richardson's departure (something I'm still emotional over), but that's because I was a teenage girl and I didn't know the feelings I had were just boners. It made sense that I was a die-hard BSB fan. I would say that I love Nicki Minaj almost as much as I loved the Backstreet Boys and that is really saying A LOT. Because Nicki's only been around for 2 or 3 years and I went through puberty with BSB. I'm not even gonna get into why I love her so much because that in itself is a 3 hour conversation, but in a few simple words, she is my fucking shero because: she's sexy, an amazing rapper, her frigging butt, always has fierce makeup/wigs, great song writer, REALLY SEXY. So basically I'm in love with Nicki Minaj and I wish so bad every stinking day of my shitty life that I could be her. Now on to the concert…
Un. Believable. She's phenomenal live. Not only does she rap/sing all of her songs, she does it really well. At a Britney concert, you'd be hard-pressed to find actual vocals and not a pre-recorded track (hint hint, Brit Brit), and Nicki proved her credibility as an artist by performing live. Her set, although it was only 45 minutes long, had theatrics, mini costume changes, a plot line, bomb as hell backup dancers, her butt in black spandex, amazing choreography. Watching her and her backup dancers made me wish I wasn't such a lazy slob and that I had the ability to pop my booty while doing a handstand. Yeah, A DANCER POPPED HER BOOTY WHILE DOING A HANDSTAND WHILE IN A SPLIT.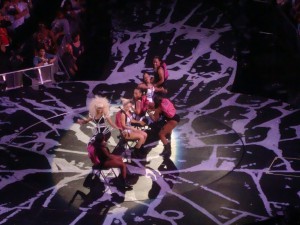 I don't have a picture of the booty-popping handstand split because I was too busy having the vapours.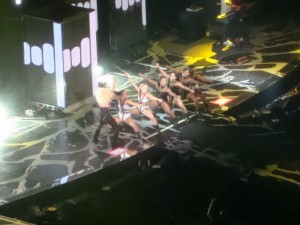 Luckily I recovered from the vapours long enough to take this amazing picture of everyone booty popping. Another deposit into the ol' Bank of Spank.
She sang all her singles except for "Massive Attack," which is fine with me because the music video to that song had that gross contortionist guy in it who makes me wanna barf. And she also sang her most successful verses like from "Lil Freak," "My Chick Bad," "Bottoms Up," and "Monster." And she sang "Did It On 'Em" which is my effing jam, which coincidentally, was also the song that had the booty-popping handstand. The concert had everything I could've ever wanted from a 45-minute opening set from my girl Nicki. Oh, yeah, and it also had a surprise appearance by Drake. I'm not gonna tell you that I started crying and seriously almost peed my pants because I was so unbelievably excited, but I totally did. I would've been a little upset if Drake hadn't made an appearance since the concert is in his home-freaking-town, but he didn't disappoint. He sang his verse in "Moment 4 Lyfe" and also stuck around for a lap dance from Nicki during "Superbass," which they TOTALLY SMOOCHED IN.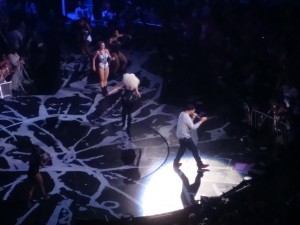 Two of the sexiest people in Ann's world.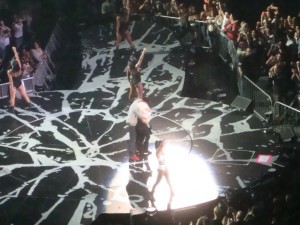 Drake hugging Nicki Minaj is all I've ever wanted to see. This is my sad life.
Nicki Minaj is pretty much the closest thing to glamfection (glamourous + perfection) you can get in my opinion. She's fierce, sexy, has a huge butt, and she's the reason I decided to get blunt bangs again, a decision I can never regret because even though I look NOTHING like her, sometimes if I put on a light pink lipstick I can pretend like I'm the drag queen equivalent of her. Ugh, who am I kidding, even drag queen versions of Nicki Minaj are more glamourous than me.
Excuse me while I go wank off to these pictures. I'm sure I'll be forced to take them down off here due to copyright infringement anyway, so enjoy these while you can.