Dearest Mark,
First of all, congratulations on tonight's game against the Seattle Mariners. For the 14th consecutive season, you've pitched in 200+ innings and according to all the sports writers I follow on Twitter that's a huge effing deal. While I realistically only have a passing knowledge of baseball numbers, no matter how you put it, 200 of anything is a lot. Could you even imagine if I was allowed to kiss you 200+ times? Like, how long would that even take? Would it be in a single sitting? Would it just be a long-standing deal where I could just smooch you whenever I felt like it? What kind of kisses would/could they be? Would we kiss on the lips or keep it PG with cheek kisses? THERE ARE SO MANY POSSIBILITIES! Just like there are so many pitches thrown in any inning of baseball.
But I'm not here to JO on your MANY accolades as an athlete. I'll let all the fanboys who actually know shit do that. Since the Blue Jays have been eliminated from the play-offs, you, Jose Bautista, Dalton Pompey, and the triple threat of Hutchison, Stroman and Sanchez are the only positives things left to talk about on this roller coaster of a season. No, I'm here to fangirl over you as a strong man.
I've never had the pleasure of meeting you in real life, so obviously I don't know you. Maybe you're a terrible troll, I have no idea. But from what I see on TV, during games and interviews, on and off the field, you seem like a solid human. You come off as confident, but humble. Intelligent, but still a good ol' boy. The article written about how you bought the rookies on the team tailored suits in New York City made both my heart and loins weep. Marcus Stroman, in one of his Tweets after your big game today said this:
Shout to my second father Mark Buehrle on making history. You're amazing. Proud to call you a teammate and friend! #STUD
— Marcus Stroman (@MStrooo7) September 25, 2014
Now, I don't know Stroman personally either (save for that time I saw him in a Starbucks in Chicago and I almost lost my damn mind), but for someone who has "Family First" stitched onto his glove, I think that's at least a little meaningful. You're very clearly someone who is respected. You're also that guy who pulls his team mate out for a curtain call after he's made a huge play so that the crowd can (continue to) applaud in appreciation. I've seen you do it countless times, in that split second right before the camera cuts to whoever is getting the standing O, you're shoving them into the spotlight. And I think that's absolutely incredible and says more about your character than any interview can. After all, you boys probably get a ton of media coaching so you say all the right things. Despite knowing this, you still come across as honest, so that's a testament to you.
I also feel like if there was ever such a thing as a "Make A Wish" for adult women who absolutely have no health problems (except for minor dementia), my wish would be for you to take me hunting. I know that's a very unpopular and polarizing thing, but I don't care. I would love nothing more than to see you in your element, except that it would be terrifying to see you actually shoot anything, terrifying in the way that I'm terrified I might find it arousing. That being said, I talk a lot and you'd probably fucking haaaaaaaate bringing me along to an activity that's so predicated on silence and still focus, but this is my Make A Wish, not yours. Kidding, I'll do anything you want me to.
Mark Buehrle, you're a gentleman on and off the field, and I'm so happy you're part of the Blue Jays. I mean, granted, I'm happy all of the Blue Jays are Blue Jays (except for Juan Francisco… THAT GUY CAN EAT MY NUTS AND HE'D PROBABLY TRY BUT THEN SOMEHOW END UP STRIKING OUT), but you're special.
Also you're so hot I want to climb up and down you like a little koala bear and you're a eucalyptus tree. Double also I've never seen a man more perfectly suited to his name, you beautifully burly beast.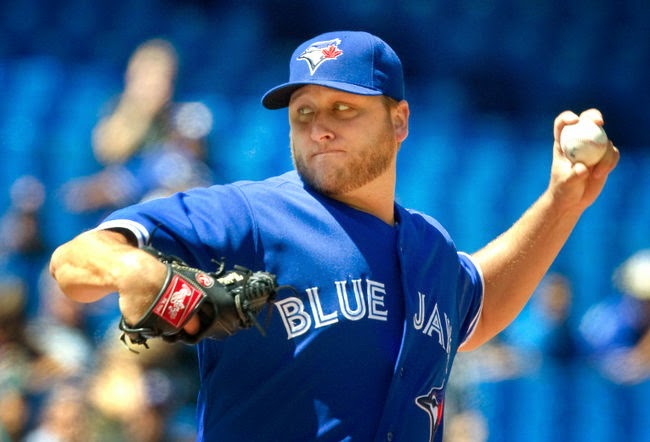 MARK I LOVE YOU VERY MUCH PLEASE LET ME KISS YOU AT LEAST ONCE, IN A NON PERVY WAY (but it would get pervy pretty quickly because you're so damn hot)
Sincerely,
Ann