I did a bad thing today. I went into Sephora thinking I would be able to control myself because the last time I was in there I was able to escape with my Mastercard unscathed. I did not, however, anticipate that those tricky sluts at Sephora would have their nail products proudly on display right at the entrance and that their Hello Kitty line would be on display right beside them.
COME ON. ARE YOU KIDDING ME, SEPHORA? YOU LURED ME INTO YOUR WHITE VAN OF GLAMOUR AND THEN ASSAULTED MY BANK ACCOUNT AGAIN?!?!?!? BLAHGUAGHLBAUHAGUHBAUHBALHALGUHBAULBHABAGGGGRRRRRRRRRRRRR!!!!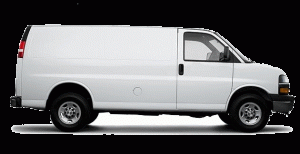 This van might as well have "Free Candy and Makeup" written on it and I might as well be a retarded kid who talks to strangers and gets in their cars.
I was so so so SO good too! The only makeup purchases I made this month (please note, it's only the 15th) (this is also not including the hair products/moisturizers from an earlier Shoppers post) (oh, God, I'm such a failure) was stuff I actually needed, which was a waterproof liquid liner. And don't be a jerk, that is a necessity for someone who cries to puppy/kitten/baby/surprise army homecoming YouTube clips on the daily. The only reason I even went to the mall was because some dummy sold me the wrong eye liner colour, so it's her fault, not mine. Point is, I had kept my disease at bay and that's why I thought I would be okay to walk by Sephora.
Nope.
Here's what I bought:
Blasted Gold (Sephora by OPI) – Gold shatter nail polish.
Wild About Shimmer (Sephora by OPI) – Sheered out golden shimmer with a champagne base.
Pink Zebra Nail Bling (Sephora) – The same concept as the Sally Hansen Salon Effect, but with little blingy jewels.
Hello Kitty Memoirs of a Kitty Palette (Sephora/Hello Kitty) – 4 eye shadow/2 blush palette.
I originally walked out of the store with just the nail stuff and then I stupidly stopped to look at the adorable Hello Kitty display and peed my pants over the completely adorable packaging.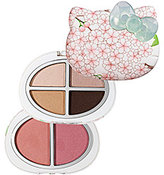 How could I say no to this face??????
I really should've followed my first instinct of "DON'T THINK ABOUT TOUCHING IT" but instead I picked it up and the colours were so so pigmented when I swatched them! The brown is this gorgeous warm-tone, chocolate with gold flecks in it, and the other 3 shades are totally wearable neutrals. I can definitely see myself picking this up and using it often, except that I have so many other colours that are similar that I already use. But how could I resist the packaging? It's just the cutest thing in whole land! IT'S HELLO KITTY'S ADORABLE HEAD! HOW CUTE! HOW WHIMSICAL! Also, it was the last one (not including the sample), so clearly I had to have it to make sure some unworthy fuddy duddy (like a stupid little girl who doesn't even wear makeup but likes cats) didn't buy it.
I'm gonna sit on this purchase for a bit before I use it, in case I want to change my mind (unlikely), but as soon as I do use it, I'll maybe do a review. Maybe I'll use this blog to do reviews as well? Or will that just enable me to buy more makeup?
Please send help. Or more money.