*WARNING: UNEDITED SAP*
My favourite things are my friends. They/you are all each tiny little shards of metallic and reflective glitter that, when combined, make the most outrageous, beautiful and pure joy-inducing sparkle bomb that gets stuck all over you and never seems to come off no matter how hard you try to shake it off.
This birthday was a huge one and was absolutely perfect. From Red Lobster, to decorating, to the pre-game to the dance party, or to Sunday Night Live, I was constantly surrounded by the people I cherish with all my heart, best of all, showing me how much they care. I am so fucking lucky to have the family and friends I have that go out of their way to make me feel so special and loved, not only for my birthday, but every single day. I don't often verbally express it, though I probably should fucking learn how, but I am so thankful to be friends with the most loving, thoughtful, kind, generous, hilarious, selfless, sweet, wonderful people ever.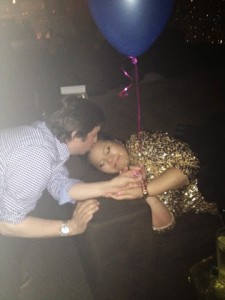 Okay, so maybe I passed out at my own party by 12:15 and fell asleep for 2 hours on the couch at the bar. Most people would've gotten dicks drawn on their faces, or much worse, have actual dicks put on their faces. My friends took turns taking pictures of them kissing me on the head with balloons tied to my hands and feet. While I was super bummed to have missed my own fun dance party, I definitely felt all the little smooches and head rubs people gave me while I was dead on the couch, and the slew of pictures people texted me the next day just made my heart hurt. And then on Sunday I was serenaded with an R&B song about me. And if you've read this blog at all, you know that's one of my ultimate dreams.
In 29 years, I've managed to meet incredible friends and that's why I know life is only gonna get sweeter past 30. The only reason why I'm glamourous, or anything good at all, is because of the people who surround me, who make me that.
Thank you. I love you.