On Friday, November 28th, it was announced that the butt-luscious Brett Lawrie was traded to the Oakland A's for Josh Donaldson.
On Friday, November 28th, Ann Pornel's heart and puss cried a million tears of loss. There's lots of things you can shit on Lawrie for (mostly his ill-advised and thankfully short-lived moustache earlier in the season), but when he was on the field, he was so much fun to watch. And you know what? I really liked that he was a super intense guy who threw a few temper tantrums. Was it immature? Yes, but that's nothing a bit of time and age won't sort out. I loved that this guy cared so much about baseball, he would literally throw his body around, for better or for worse. He gave 100000000% on the field and was full of life, energy and passion, and made a new fan like me really enjoy the game. Add that to the fact that he was also supremely talented as a 3rd baseman and you get someone who's hard to let go of, despite any shortcomings. And he's a good ol' Canadian boy. I loved the fact that Canada's only baseball team was home to possibly 3 starting players in Lawrie, Martin and Pompey. Personally, after Beautiful Bautista, he was the Blue Jay I recognized the most when I was just getting into it. Say what you will, but Brett Lawrie has never blended into the background. It's hard to do that when you're tatted up, hot as hell, jumping and diving all over the field, AND HAD AN ASS AS THICK AND JUICY AS A PORTER HOUSE STEAK. He was also BFFs with my one true love Adam Lind WHO IS ALSO NO LONGER A BLUE JAY, so he had a special place in my heart for that fact alone. But the thing I'll miss about Brett the most was his pre-game stretching. It was poetry in motion. And now. Nothing.
Just a pervy woman with a broken heart. A woman who is super glad she got to sit close enough one game last season to creepily snap these pics of that perfect butt: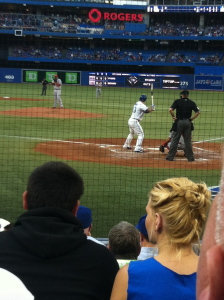 And, yes, I know that Donaldson is an incredible player and is second to Mike Trout in defensive blahblahblahs, but I don't wanna talk about that yet. I'll probably be super okay with this tomorrow morning, but for now? For now I'm gonna watch this on loop: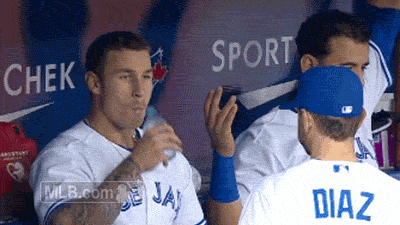 And finally… REMEMBER THIS LAST YEAR?! JESUS. Goodbye, Brett, you will truly be missed and I sincerely hope you find a ton of success in Oakland.