Today I found out, and my comedy community found out, that Frank McAnulty passed away on Sunday.
Frank was a kind man, who always said he had a fiery temper, but working with him several times, I never saw it. I only saw someone who cared so much about the people around him and someone who loved comedy. Seeing all the Facebook posts, I know I'm not the only who saw that too. We were all so lucky to have someone like Frank in all of our corners. You've never met a man more generous than him. Whether it was giving his time to his students or the casts he directed, or giving snacks and bagels, lox and cream cheese during rehearsals, or giving advice, Frank would give you anything he could to make you feel important. Frank believed in everybody. In an industry where it's so easy to not give a shit, he fucking cared so much about everything he did and every one he worked with.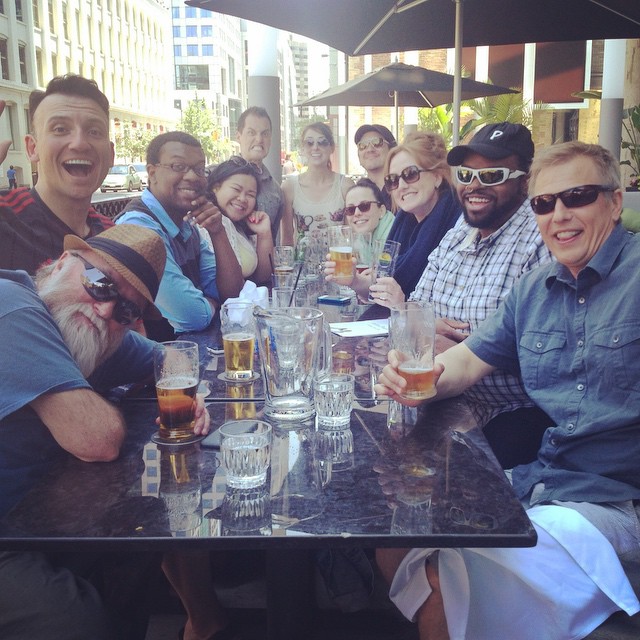 And I know he believed in me because Frank always let me be me. And selfishly, that's my favourite thing about him. That I never had to explain or apologize for who I am. And vice versa. His favourite thing to say was "Try before you deny," which is a generally good life motto. The only thing he never let me try was this one black out I pitched:
SEXY LADIES BO
VO
And now, sexy ladies.
LIGHTS UP
ANN and NADINE are wearing MEDIEVAL KNIGHTS armour and are swivelling their hips in a delightfully sensual way. ANN opens the knight helmet to reveal she's in full clown makeup and NADINE takes off the chest piece revealing a baby raccoon stapled to her chest.
ENTER CAST wearing masks of ANN and NADINE's faces, all also swivelling their hips.
ANN pulls out a grenade from out of her butt and throws it into the audience. NADINE takes off the remaining knight armour and does a handstand, nude, while still maintaining her swivelling her hips.
VO
That was, sexy ladies.
SLOW FADE TO BLACK as ANN begins to strip while crying off all her clown makeup.
Thank you, Frankie.