By this point in time, it comes as a surprise to nobody that I have a thing for shiny and sparkly things. If I was a woman of loose morals I would probably be a skanky kleptomaniac, but luckily for my criminal record and unluckily for my family, I'm just a regular ol' skank. I can't help it. Who can resist a little glimmery sparkle that catches the light? Most people and that's what separates them from glamazons such as yours truly. It's that exact lack of appreciation of all things glitter and sparkle that prohibits us beautiful people from fully expressing ourselves. If I wore glitter on my face as much as I wanted to, you would think I was some sort of burn victim whose face was permanently damaged in a glitter fire. IE I WOULD WEAR IT ALL THE TIME AND COVER MY FACE IN IT.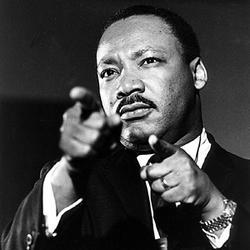 Free at last? Not until I can leave my house literally covered head to toe in glitter & sparkles, MLK.
As a no-longer-young-adult, I have to make a compromise with society. So instead of bathing in glue and then drying off in a vat of diamonds, which is what I want to do, I localize my glitter expression to just my nails, save for special occasions like New Years and birthdays where excess glamour is permitted. In the past little while, I've managed to accrue more than enough glitter nail polishes for several people, let alone just one person. Micro glitters, macro glitters, glass-fleck glitters, 3-d glitters, shimmers, hexagonal chunky glitters, glitters in a clear base, glitters in a coloured base. Of course, I'm constantly in search of finding more to add to my collection, but for the most part I have most of these bases covered. No matter where you fall on the glamour scale, there's a glitter for you.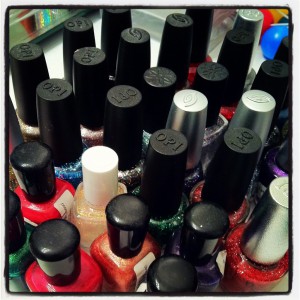 Beginner Glam aka Regular Lady (0-4)
Whatever it is that's preventing you from letting your inner glamonster out (maybe a "real" adult job or maybe you're not ready to take the leap into the deep end of the glam pool), you still have options. My advice is go for either a shimmer or a smaller-sized glitter or perhaps a shimmery top coat, something a bit more subtle. Whoever said size doesn't matter obviously wasn't talking about glitter flecks in nail polish or wangs, because of course size matters. Smaller particles, I argue, are more wearable for the everyday person because they'll still have that extra oomph and sparkle, but they're not as obvious unless you're looking directly at them.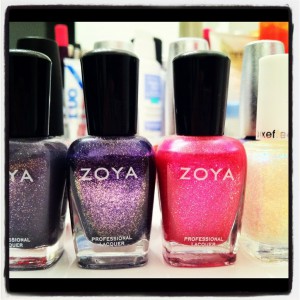 L to R: Zoya's Neeka, Zoya's Mimi, Zoya's Gilda, Essie's Shine of the Times
Medium Glam aka Toddlers and Tiaras Glam (5-7)
The next glam level is Toddlers and Tiaras, named so after the second most sparkly kind of person out there: 4 year old pageant princess. At this level, you're willing to be a bit flashier, but you're still not quite the glamddict you want to be. That's okay. One step at a time. My suggestion to you would be less shimmer and more actual glitter. Nothing super chunky quite yet, but a small-sized glitter that's either super dense or in a coloured base (aka the polish isn't clear). Definitely more showy than a shimmery nail polish, but still well within the realms of day-to-day wearable. If you're a bit higher on the scale, I also recommend going with a 3-d or holographic micro glitter, which is where the glitter changes colour depending on how the light hits it (my absolute favourite type of glitter nail polish). If you're into these, I recommend checking out OPI's Designer Series, which are all gorgeous and glittery and have really interesting shades and depth to them. Word of warning about those: they're $14.95 instead of the normal $9.95. And if you're braver still, go for a chunky glitter but in a "normal" colour, like red!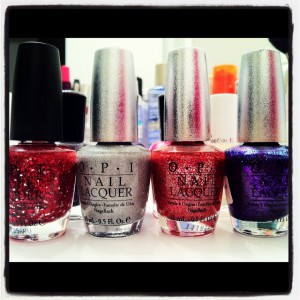 L to R: Gettin' Miss Piggy With It, DS Coronation, DS Bold, DS Temptation (all OPI).
Advanced Glam aka Beauty Queen and/or Drag Queens (8-10)
Truthfully, there used to be a time where the previous two types of nail polish was all it took for me to get a glamrection. Now that I'm a full blown glamanic, these days, I'm all about the chunky, holographic, multi-sized, multi-shaped, multi-coloured glitter polishes. Ever since I laid my eyes on Teenage Dream (my #1 favourite nail polish of all time, no contest), which was a Katy Perry collaboration with OPI, I haven't been able to get enough. They're multifaceted, they shine like no other, they glimmer like crazy and you will always, always, ALWAYS get compliments on them. No exaggeration, every single time I have worn a super glittery nail polish, I get compliments not only from friends and family, but also strangers on the street and cashiers at stores.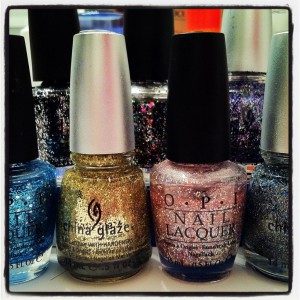 These will make you popular.
Top L to R:
OPI's Metallic 4 Life, OPI's Rainbow Connection, China Glaze's Marry A Millionaire
Bottom L to R:
OPI's Gone Gonzo, China Glaze's Blonde Bombshell, OPI's Teenage Dream, China Glaze's Lorelei's Tiara
They are flashy and obnoxious, but still so fun and bold, that they are completely worth the trouble. And trust me, these polishes are TROUBLE. The more dense the glitter in any polish, the harder removal will be. If you think a cotton ball or pad and some non-acetone nail polish remove is gonna do the trick, you're laughably mistaken. Be prepared to have about 50 cotton pads and nail polish remover WITH acetone (pure acetone works best) and especially be prepared to put in at least 45 minutes of actual work in scrubbing this stuff off. My recommendation is to soak the cotton pad in remover, press it against your nail for at least a minute, and then you can start scrapping. Or even better than this is one of these: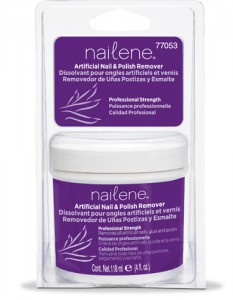 Glitter nail polish addict's best friend.
This is basically a small tub of nail polish remover that you stick your finger in and there are little rubber bristles in there to help scratch off the glitter off your nail. Still labor intensive, but waaaaaaay easier. Also a little creepy to have your finger in a cold jar whilst rubbing it up and down against rubbery bristles.
Also these types of polishes are not only very hard to remove, but they can sometimes be very tricky to apply. Larger chunks are more prone to moving around when you brush it on, and it's very hard to achieve an opaque coverage in less than 3 coats with most glitter polishes, especially those suspended in a clear base. My tip is to wait a bit between coats so you let the polish dry a bit so there's less shifting and moving of the already applied polish.
At the end of the day, wear whatever you want to wear on your dag nails. I just prefer my nail polish to make a statement, but not everyone does. However, I do think that the holiday season is the perfect time to try any one of these babies out. Let your nails sparkle in the night, even if just for one night. They, and you, both deserve to feel shiny and girly at least once in a while. And just like Cinderella, as soon as the clock strikes 12 and you're done with the glitter nail polish, you'll have to go home and scrub until your fingers bleed.
Such is the price of glamour.
NOTE: I used the word "glitter" 31 times in this one post. An all-time record. RECORD OF AMAZING.