Two days into this trip and I've already failed at this blog, but given the circumstances, I think it's alright. And now, since I chose to update this at the most inopportune moment (30 minutes before we go shopping on Newbury Street), I can't even update appropriately.
The bare naked facts:
-We KILLED our set. Nailed it. The audience loved it and got huge boners from all of us
-We made new friends (who were the absolute sweetest and coolest!) and taught them how to party Sketchersons style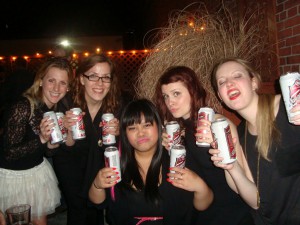 This is how Sketchersons party.
I'll update later, but you get the point. We all got too drunk from double fisting 3.50 tallboys. This is a wonderful, wonderful life, you guys.