*NOTE* This took me two days to write. The tenses might not match.
Now that I'm sober and have a few minutes to give a nice recap of what happened 2 days ago, I've completely forgotten what happened. Combine coming off a high from another hot show and complete exhaustion, and you'll know what's going on over here.
Most of yesterday was spent walking around Harvard and the surrounding area so we could shop. I obvi got Harvard swag because this is basically the closest I will ever get to "attending" an ivy league school. Sorry, Mom and Dad. There's something pretty daunting about being in a concentrated area of stinking smart and/or stinking rich people, except I don't feel that bad about it because I am for sure more glamourous than them. For lunch we went to Mr. Bartley's (voted best burger in America by The Boston Globe & The Wall Street Journal) and got some sick burgs.
THINGS FROM MR. BARTLEY'S THAT ARE DEAD IN OUR BELLIES
-The Tom Brady Burger: cheddar, guacamole, lettuce, tomato, red onions and fries
-The Barack Obama Burger: feta cheese, lettuce, tomato, red onion and fries
-The Mayor Mumbles Meninon: fried egg, bacon, cheese and fries
-The Mrs. B: A burger no roll on a bed of spinach with chopped egg, crumbled bacon, walnuts, tomatoes, red onion, drizzled with lemon vinagrette
-Pink lemonade
-3 house salads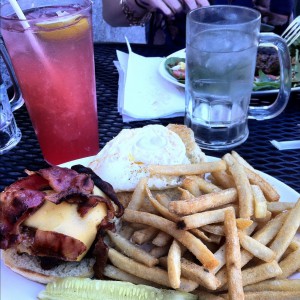 Walk, walk, walk, getting ready, getting ready, getting ready.
We arrive at ImprovBoston for our call time and walk through T's & B's of our sketches and waited for the show. Everyone was really welcome and nice and we got these sweet swag bags which included URBAN DECAY EYE SHADOW. UN. REAL.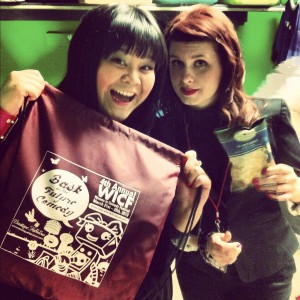 A fashionable tote for some fashionable ladies.
Since we were last up, we snuck into the first set which was the The Real Housewives of the Magick Kingdom, which was long form improv where they all played different Disney princesses and they were super great. Loved all the ladies, but I for sure had a lady crush on the ladies that played Ariel and Belle. More and more people trickled into the theatre as the show went on, so by the time we took the stage, it was a full house minus 5-10 seats.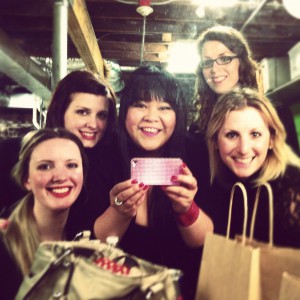 And we NAILED IT.
The tech was a little wonky once or twice, but on our end? WE DID IT ON 'EM. Everyone was on point, the sketches hit hard and the audience was eating it all up. Goblin was HUGE and Tupperware was nuts. It was easily one of the best sketch sets I'd ever performed and I'm so so so happy that I got to share it with my ladies. As we exited the theatre, a couple of very nice came up to us raving about the show, so obviously we loved them instantly. We all decided to go to the official afterparty bar of the night which was very conveniently 3 doors down from the theatre. It's at this point where things get hazy. When I ordered my drink, which was a $3.50 of Narragansett, the bartender gave me two even though I only ordered one. Not wanting be a rude dude, I gladly took the two beers and the other ladies followed my example, hence the picture from the previous post. We hung out with our new friends, met some more people at the bar, and basically did all of Toronto proud and showed Bostonites how we do.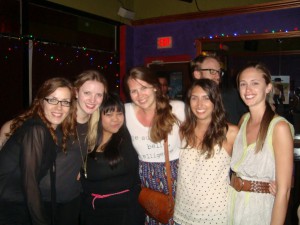 Best buds. Siiiiiiiiiiiiick.
At the end of the night, we got pizza, hopped in a cab with a French-speaking Haitian cabbie, and ended up at home where things just went nuts. I'm of the mind frame that "What happens in Boston, stays in Boston," but let me just say there are some videos that we took that we don't remember taking until the next morning.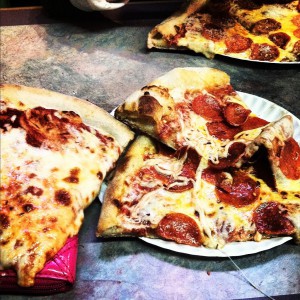 Pizza that we demolished.