I'm gonna be real. I've had a lot of trouble finding a way to write this entry because today was kind of boring, since 9 hours of it was spent travelling in a car. I don't have any hilarious anecdotes. The most notable thing to happen was Kait & Sarah sleeping for most of the trip.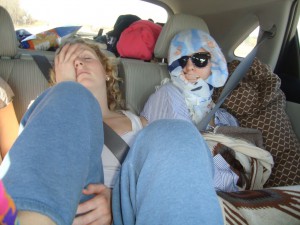 This is them for real sleeping. This is not staged. Like, actually.
I guess I can share that on the way we found the best satellite radio station that was all 90's songs so imagine my joy when I saw this.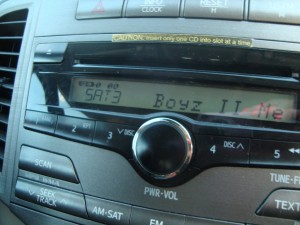 Hopefully the "Boyz II Me" is a sign of what's to come.
We made it to Boston in about 9 hours, boring details blah blah blah, and arrived to the most charming and air conditioned apartment courtesy of Air BNB. I'd take pictures right now, but I'm resting comfortably in the queen sized bed me and Sarah are currently sharing and I'd hate to bother Ali and Kait and Joc who all have their own room (one being a living room with an incredibly comfy couch). I know. So interesting, right? Whatever, you guys. This apartment is DECKED OUT and very fitting for 5 sassy and glam ladies who are looking to take Boston by storm.
Since we made such good time on the road and because the weather was so utterly gorgeous and warm, we all got changed out of our stanked out car clothes and treated ourselves to our first seafood meal. If you're keeping track of all the seafood we murder on this trip, get out your pad and pencils:
THINGS FROM THE OCEAN THAT ARE DEAD IN OUR BELLIES
-Deep fried clams
-Deep fried calamari
-1.5 pounds of Pacific dungeness crab
-1.5 pounds of Alaskan Bairdi crab
-3 lobster rolls (6 oz of lobster dripping with butter in a soft bun)
I would commit a crime just so I could get the death penalty and I could make this my last meal. Who wants to let me kill them?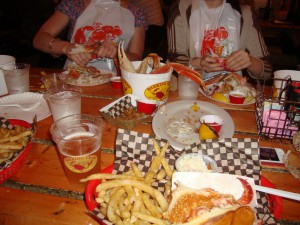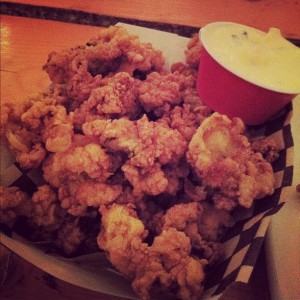 After dinner, we walked around the water front and then in Boston before we headed to a 7/11 and bought a huge jug of white wine, simply because we could. We figured it'd be better to not go nuts tonight since our show is tomorrow. I don't really know what else to say because those photos pretty much speak for themselves and also because my brain is mangled from travelling, drinking and eating easily one of the greatest meals of my whole entire life.
Boston: I love you so much already and it's only been 7 hours.