If you've noticed that I haven't been tending to my glam blog in the last little while, it's because I've been busy working on my graduation show
Family Freud
 as part of the Conservatory Programme at The 
Second City
. It's been a long 7ish month process, but I was fortunate enough to have a fantastic cast and a great director.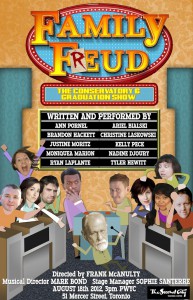 This is our poster. It's wicked.
Our show is this Saturday, but I'm pushing really, really, really hard to get in this blackout, but for some reason my director, Frank, is hesitant.
VO
And now, sexy ladies.
LIGHTS UP
ANN and NADINE are wearing MEDIEVAL KNIGHTS armour and are swivelling their hips in a delightfully sensual way. ANN opens the knight helmet to reveal she's in full clown makeup and NADINE takes off the chest piece revealing a baby raccoon stapled to her chest.
ENTER CAST wearing masks of ANN and NADINE's faces, all also swivelling their hips.
ANN pulls out a grenade from out of her butt and throws it into the audience. NADINE takes off the remaining knight armour and does a handstand, nude, while still maintaining her swivelling her hips.
VO
That was, sexy ladies.
SLOW FADE TO BLACK as ANN begins to strip while crying off all her clown makeup.
Also this very brilliant idea is already copyrighted and is being turned into a screenplay as we speak, so don't even think of trying to steal it.
PS Come see if this gets in! Fingers crossed!
Family Freud
The Second City Main Stage
51 Mercer St.
3:00 pm
PWYC