Well, I did it.
I bought 3 of the same dress, but in different patterns. Well, technically I bought 4 of the same dress (so I could get free shipping), but I have every intention on returning one of them. I hope.
I need to write down some of my feelings right now because I went through a lot in the past hour deliberating on whether or not I should buy this dress that I already own. Here's the story of THE DRESS.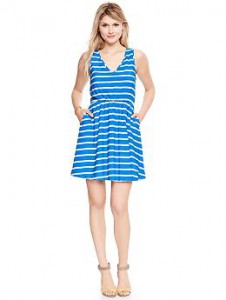 I wandered into The Gap 2 weeks ago, distracted by their gorgeous boyfriend shirts in their neon glory. I haven't been interested in the shit Gap's had over the last 5-10 years, but I'll be DAMNED if I haven't gone ass over heels ga-ga for their neon palette this season. Anyway, on a whim I decided to try on a couple of dresses just because I liked the patterns on them. I didn't think they would fit my absurdly huge tittays because nothing ever does unless it's stretch, so I thought I'd just walk out of the store feeling a little shittier about myself than when I walked in.
DEAD. WRONG.
This dress. It not only fit me like a glove, but every single detail was flattering: The print, the silhouette, where the hemline fell. All of it. It was a goddamn dream. I felt feminine, I felt pretty, I felt like this was the perfect dress for my body. Then I looked at the price tag and was forcefully brought back to reality. $69.95 aka TOO MUCH FOR A FUCKING GAP DRESS. That's the thing about The Gap. They have crazy good sales to make up for the fact that their clothing is obscenely overpriced. But I digress. I took of the dress and stood in the change room in my Spanx and considered if I was actually about to spend almost $80 with taxes on a dress that probably wasn't worth that much. It was a gorgeous dress, yes, but a dress is a dress is a dress. It had no sequins, no ornate design, no one-of-a-kindness to it that I reserve for spending more than $50 on a dress for. I put the dress on the hanger and sadly walked out empty-handed, feeling way worse about life than if the dress made me look like a turd in a cheesecloth. So all day, I was sad about a dress that was never mine, and I dreamed of all the places I couldn't go to because I didn't own that dress. No garden parties, no polo or croquet games, no romantic date to see Shakespeare in the Park for me because I had nothing acceptable to wear (things that I get invited to all the time, BTDubs). Later on, I was pathetically lamenting to my mother about this nice dress I tried on but refused to pay $69.95 on and showed it to her. She did the obligatory, "Yes, that's a nice dress," that moms have to do, but clearly she thought there are other things in this world I should be upset about.
Man, how have I ALREADY rambled on this long about this dress and I haven't even gotten to the part where I ended up buying it because my amazing, kind and generous mom gave me the money to buy as a gift for myself for no reason. Well, we're at that part now, you're welcome, nobody. So I go to The Gap and go immediately to the dress and buy it on Sweet Cathy's dime. I look at the cash register and it says the dress is $49.95. IT WAS 30% OFF AND I DIDN'T EVEN KNOW IT! Needless to say, it was as if the dress was meant to be mine. HUZZAH HUZZAH! Now I could go to all the garden parties I wanted to!
The next day, I go to the Blue Jays game and we had an AMAZING game and beat the crap out of the Orioles, continuing an 11-game winning streak. I mention that we won because it was that giddy "Anything is possible!" mentality that led me back to another Gap to purchase another one of those 30% dresses, but in a different pattern. I know what you're thinking: ANN YOU'RE OUT OF CONTROL. And yes, I am. I live fast, I live hard, I live with a lot of debt.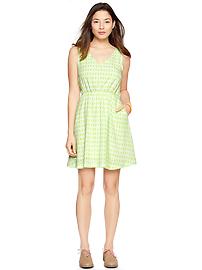 So now I own two of these lovely, flattering dresses. I'm at home, pleased beyond measure, trolling around online. I think to myself, "The Gap has really turned it around! I wonder what other stuff they got on their website. I'll just take a look, no harm, no foul."
DEAD. WRONG.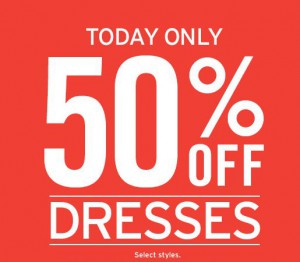 "You think you got a deal on that dress? THINK AGAIN, ASSHOLE!" -The Gap
My lovely, flattering dress is now a measly $34.97.
We've all been there. We've all paid for something and then see it on sale two days later and we kick ourselves in the face because we juuuuuust couldn't wait. So instead of just feeling annoyed that I was that dummy that paid an extra 20% for a dress that was already on sale… I felt like I owed it to myself to buy yet another dress at the cheapest price yet! How could I not? We've already established how rockin' this dress looks on me, not to mention I already wore the dresses and got a ZILLION compliments. I can't be sure, but I think this is the mind set of someone with a shopping addiction.
ANYHOO LONG STORY EVEN LONGER, I BOUGHT ANOTHER ONE.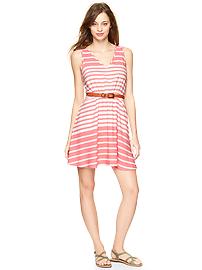 AND ANOTHER ONE FOR FREE SHIPPING.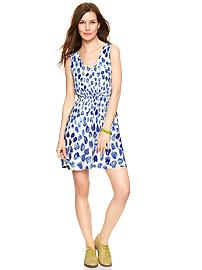 And that's how I came to buy four of the same goddamn dress. I couldn't let the stupid Gap win with their sale, but ultimately they still have all of my money, so I certainly don't feel like I've really won. The Gap played me for a fool, and I was putty in their viscose-rayon hands. Yes, I have an army of dresses that fit me perfectly and can be used for so many occasions, but I feel like I've lost a bit of my pride.
HA HA JUST KIDDING. I'M A HUGE BABE IN THIS DRESS, I GOT ALLLLLLLLLL MY PRIDE.
Just no money.
PS Hey Gap Canada and Spanx, SPONSOR A SISTER, WOULD YOU?