Would you ever wear these?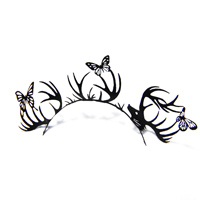 GLAMSWER:
Short answer – Yes, absolutely. For the less glamducated out there, those are paper faux lashes made by a company
Paperself
. I've seen them in Sephora for the past couple of months, if not even longer than that and they are fascinating to me. They're so dainty and feminine, but still very bold and demand attention, something I half aspire to be (dainty is for pussies).
Long answer – I am curious about trying these out because I have no doubt that they will wow anyone who sees them. I'm sure everyone would ask you about them, and as a huge ego maniac, that sort of shit is right up my alley. However, the reason why I haven't made the glammitment and ponied up the $17-19 per pair is because I have yet had the opportunity to go to an event that would do these lashes justice.
For anyone who wears faux lashes, you know that they take a bit of work. It takes a lot of practice to learn how to put them on, it takes a steady hand, it requires patience and it requires you remembering to not rub your eyes with your greasy fingers during the evening lest these unstick in the corner, which is THE WORST FEELING IN THE WORLD. I imagine these would be like that except 1000 more amped up because they're clunkier than regular lashes. I'm assuming here, but they probably weigh a bit more than regular lashes, even if they are paper, but more important than the weight is the bulk of these paper lashes. They aren't just hairs pointing upwards, these are adorable and intricate little designs that are meant to flutter about when you bat your lashes at a deserving beau. Or they're tiny little swords that could give your iris a goddamn paper cut if the wind blows the wrong way. It could happen. Regular lashes can be annoying enough on their own, depending on how well you applied them, but you would probably be very very aware of these each time you blink.
Also unless you're doing some sort of editorial photo shoot at Wal-Mart Photo Centre, these would be a LOT OF GLAM for a regular dud to handle. I recommend doing a really toned-down makeup look for if/when you want to try these bad boys out. I'd keep the eyes and lips pretty neutral, a pop of colour on the cheek, and really let the lashes be the focal point of your makeup. Anything more, you might end up looking like Tammy Faye.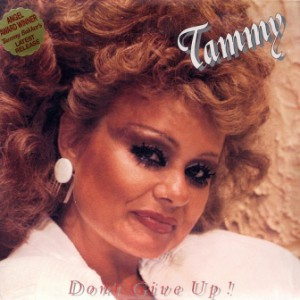 I will never give up on you or your 300000 coats of mascara, Tammy Faye. You're a glamspiration to us all.
I think paper lashes are a real statement piece that should be used on an occasion that is worthy of its glamourousness. They're beautiful, but they might be hard to apply/wear.
FOR SURE WEAR THEM, C.M., BECAUSE IF YOU FIND THEM IN SEPHORA, THEY'RE PROBABLY ON SALE.